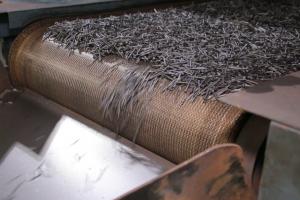 We manufacture all our products including Steel Concrete Nails, Copper Nails, Stainless Nails & Special Nails, using modern and efficient Nail Making Machines; Automatic Continuous Conveyor Type Heat Treatment Furnaces, Embrittlement Free Electroplating Processes and Accurate Automatic Weighing & Packaging Technology.
QC (quality control)
We produce hardened steel suitable for fixing into concrete and stone. Produced with both the essential hardness required for working with hard building materials and the elasticity needed to ensure a maximum level of operator safety during use.
We have optimised our specification of raw materials, and through our continuous development of innovative technological processes, including controlled heat treatment and electroplating we manufacture nails with outstanding mechanical characteristics and attractive appearance
Our control processes include the testing of all products including Hardness Testing,
Deformation Testing (bending at an angle greater than 90 degrees, without breakage), and Sustained Stress Testing.
Q.C. Equipment:
Dimension Inspection
Hardness Testing
Salt Spray Testing
Coating Thickness Testing
Colour and Appearance Inspection
Deformation Testing (Various Methods)
Standards & Approvals
ISO 9001
R&D (reserch&development)
RESEARCH & DEVELOPMENT

We at YC Nail take pride in our recognition as a world leading manufacturer of high quality nails and fixings. Our commitment to quality and our unique manufacturing process, evolved over decades, is responsible for producing products you can rely on.

Location: Chang-Hua, Taiwan
Patents & Copyrights
Thumb Brand